My Camaros
Here is the first 67 Camaro. My father restored it and is standing in front of it in this shot. Sold it to a guy in Dallas Mid-90s.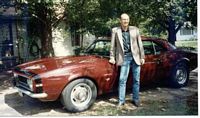 The following is my current project 67. Purchased around June 2005.
As Purchased Off Ebay From A Guy In Kansas
Body Stripped
On The Dolly
The Roof Is Leaking!
There Is No Trunk
The Dash Has Gotta' Go
The Interior Is A Mess
Outer Firewall and Cowl
Replacing The Passenger Outer Rocker Panel
Subframe and Front Suspension
Removing Coils And The Tools Used
Rear End And Rear Brakes
Hoods and Bonnets
Misc. Pictures